Five Most Anticipated Horror Films of 2021
March 20, 2021
0 comments
Spring has sprung, and more than flowers will soon be in bloom. Some of the year's most anticipated horror films are headed our way.
It may have been a long metaphorical Winter, but the frozen horror wasteland is about to thaw, bringing a bouquet of genre delights to screens big and small.
We all know 2020 was a real horror show. Along with every awful thing that happened, one of the most disappointing (but understandable) things to occur was several hotly anticipated horror movies seeing their release dates get pushed back.  On the bright side, that means 2021 is poised to be a great year for horror. We may even get the chance to once again see our genre favorites on the big screen. Many of the films headed are way this year are either reboots or sequels. And while that may not sound exciting for some, all of the upcoming films that fall into this category seem fresh and exciting.
In order of release date, let's take a look at five of the most anticipated horror films of 2021.
1. Spiral (May 2021)
The latest sequel in the Saw franchise was originally scheduled for release in May of 2020. But, of course, COVID made that impossible, pushing back this much-anticipated release by a year.
The teaser trailer does not reveal a lot about the film; however, what we do know is that cops become a primary target for the infamous saw traps.  The film stars Chris Rock, who also served as executive producer of the film, and Samuel L. Jackson.
When I first heard Chris Rock would be rebooting the Saw franchise, I will be honest, I was a bit skeptical. But films like Get Out and Halloween (2018) have proven that funny men do horror exceptionally well And when I saw the teaser trailer, I instantly knew we were in for another great Saw film. To be honest, I have always found the Saw movies to be a great guilty pleasure. Even though the most recent films in the franchise have not been as well-received as earlier entries, I've enjoyed all of them.
I hope we will get to experience Spiral in theaters, while delighting in some gruesome new saw traps.
2. The Conjuring 3 (Also known as The Conjuring 3:  The Devil Made Me Do It) (June 2021)
I must admit, with the number of films that have spawned from The Conjuring franchise, I was a bit surprised to learn that this was only the third Conjuring film.
Picking up the Ed and Lorraine Warren storyline, audiences will be following yet another of their famous paranormal cases. This time, we'll be exploring the case of Arne Cheyenne Johnson, also known as the "Devil Made Me Do It" case. 
The story is based on the real-life trial that took place in 1981, in which Johnson was found innocent of manslaughter by means of demonic possession. 
Of all the Conjuring films, I think I am the most excited for this one. While all of the films have added elements to make the story scarier, I think a man being demonically possessed and killing someone is already scary enough. The current release date for this film is June 2021, kicking off the Summer Blockbuster Season.  I am unclear as to whether or not this will be released to theaters or if it will stay on a streaming service. Either way, I'm eagerly awaiting this one.
3. Candyman (August 2021)
This sequel of the 1992 film looks even more chilling than the original.
Based on the trailer, it looks as though this movie will closely follow the same story as the original — with the infamous Candyman being summoned whenever someone says his name five times in the mirror — inspired by Clive Barker's short story "The Forbidden". Tony Todd and Vanessa Estelle Williams will be reprising their roles from the original film, joined by new cast members Yahya Abdul-Mateen II, Teyonah Parris, Nathan Stewart-Jarrett, and Colman Domingo.
It also looks like there will be plenty of kills and scares, which is always a welcome treat for horror fans. Considering the original Candyman actually gave me nightmares, I can only imagine how I will react to this sequel.
Jordan Peele played a part in the writing this film, along with Win Rosefield and Nia DaCosta, who is handling directing duties for this eagerly awaited franchise film. Based on the stellar work we have seen from Peele so far, I think we are definitely in for a surprise. DaCosta is also a star on the rise, having recently been announced as the director for the upcoming sequel to Captain Marvel, becoming the youngest filmmaker to direct a Marvel film.
Candyman has been delayed three times from an original June 2020 date due to the COVID-19 pandemic. But it sure looks like it will be a film more than worth the wait.
4. Halloween Kills (October 2021)
Of all the films that saw their release dates pushed due to COVID, perhaps none were more bemoaned than Halloween Kills, the sequel to 2018's wildly successful Halloween. 
This film will take place directly after the events of the previous film, Halloween (2018).  The filmmakers have not given us much yet, but what we do know is that there will be a lot more blood and several more kills in this sequel. And, of course, we can expect the inevitable return of Michael Myers.
Depsite its undeniable box office success, Halloween (2018) received mixed reviews. Personally, however, I loved it. In fact, I consider it my favorite Halloween film so far (bold statement, I know). I am excited to see if the upcoming sequel is just as good as the previous film, or if it will even surpass it. Expectations are high for this one, so let's hope the anticipation caused by the year-long delay will make watching this film even sweeter.
5. Abruptio (TBD, Late 2021)
Abruptio is an upcoming puppet horror film. From what I've read, this film has been in the works for several years, with production beginning way back in 2016.  While we don't have an official release date yet, it's anticipated to come out by the end of 2021.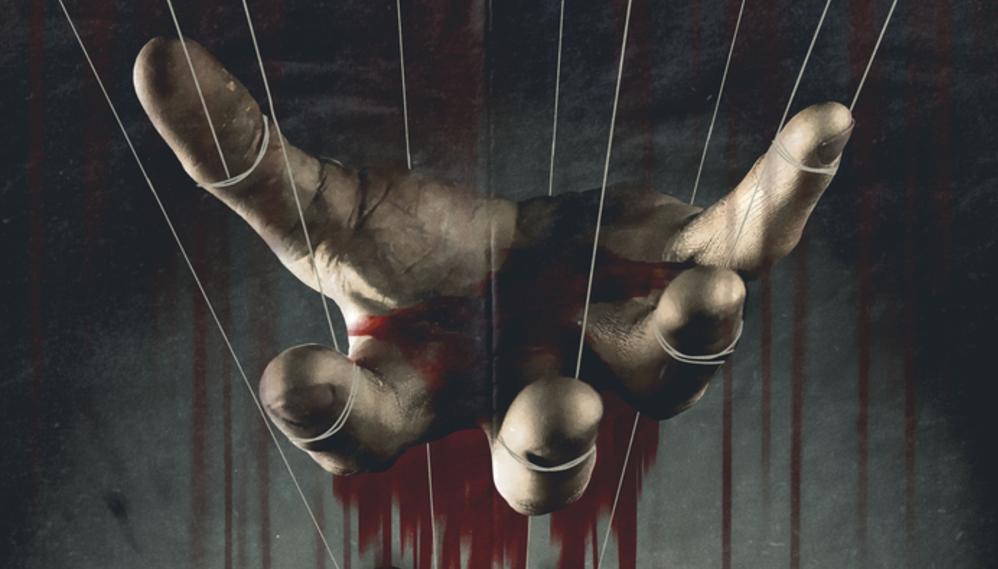 There are several amazing actors in this film, including Jordan Peele, James Marsters, and even Robert Englund. Not much has been said about this film quite yet, but here is what we know about the premise:
"Les Hackel (Marsters) is a guy down on his luck who wakes to find an explosive device has been implanted in his neck. He must carry out heinous crimes in order to stay alive while trying to identify the mastermind manipulating the now twisted and strange world around him."
This snippet of the plot comes from the film's website, which also includes news about the film and behind-the-scenes photos. Just based on the little bit that I have seen and read, I know this is going to be quite the treat for horror fans. 
…